The importance of certification to fly drones:
Ensuring safety and accountability.
In recent years, the use of drones has been increasing in various fields, from aerial photography to infrastructure inspection and law enforcement. This growing popularity has highlighted the need for regulation and certification of drone pilots to ensure safe operations and accountability in the use of these devices.
Certification to fly drones is critical for several reasons. First, drones share airspace with other manned aircraft, such as airplanes and helicopters. Without proper training, drone pilots may not be aware of flight rules, allowable altitudes and restricted areas, which could lead to dangerous and potentially fatal collisions. Proper certification ensures that pilots understand the rules of flight and safe operation, minimizing risks to everyone in the sky.
Open Category – Civilian Drones
The Open Category is the main reference for most drone leisure and low-risk commercial activities.
The Open Category is further divided into three subcategories – A1, A2, A3 – which could be broadly summarized as follows:
A1: Overflight of people is allowed but not over crowds.
A2: Flight near people is allowed
A3: Flight away from people
Each subcategory establishes its own requirements. Therefore, in the open category, it is important to identify the subcategory of operation in which your activities fall, in order to determine which rules apply to the flight and the type of training the remote pilot must undertake.
A transitional period applies until December 31, 2023. Until that date, no special drone is required to operate in the 'open' category as long as it weighs less than 25 kg.
Class Marking
Drones with class identification tags (i.e. C0, C1, C2, C3, C4) are already available on the market.
As of January 1, 2024, open category operations must be conducted with a drone with a C0 to C4 class identification tag, privately built or without a class identification tag only if it was purchased before December 31, 2023. Note that privately built means you built the drone for personal use, it does not refer to UAS assembled from sets of parts marketed as a single ready-to-assemble kit.
See the image below for a better understanding or get more information at:
https://www.easa.europa.eu/en/domains/civil-drones/drones-regulatory-framework-background/open-category-civil-drones.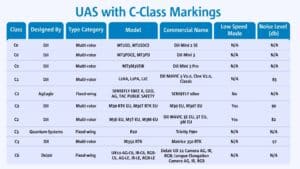 There are 2 main components related to drone operation.
Unmanned aircraft operator registration, unmanned aircraft systems (UAS) requiring registration (certificates) and authorization applications in the specific category are required.
Flight
Responsible Entity AESA
Must be registered at AESA headquarters as a drone operator, indicating the aircraft. Pilots will be part of the operator.
The pilots, initially, must perform the training in open category.
AESA:
https://sede.seguridadaerea.gob.es/sede-aesa/catalogo-de-procedimientos/registro-de-operadores-de-uas
Certification:
https://www.seguridadaerea.gob.es/es/ambitos/drones/formacion-de-pilotos-a-distancia-de-uas-drones
Flights in the open category must comply with the following legally established obligations.
You can check the flight zone at https://drones.enaire.es/
Follow the indications according to the type of restriction.
Civil liability insurance is mandatory.
Identify the drone by attaching to its structure a fireproof plate (operator contact, serial number…) (Art. 8 – RD. 1036/2017).
Image capture
The European Union also promotes the culture of data protection, in the following link, there is a data protection course specialized in the use of UAS, in which you can learn about the limitations to which these equipments are subjected when it comes to all data.
https://dronerules.eu/professional/course/
__________________________________________________________________________________________________________________________