Altum-PT is a 3-in-1 solution optimised for remote sensing and agricultural surveillance.
The most accurate results generate leaf-level resolutions.
It seamlessly integrates a high-resolution panchromatic imaging sensor, a new thermal imaging sensor that provides twice the ground resolution of the previous Altum, and five discrete spectral bands, enabling plant-level applications such as counting plants in early growth stages. Altum-PT also features a global shutter for distortion-free results, open APIs and a new storage device that allows up to 2 captures per second.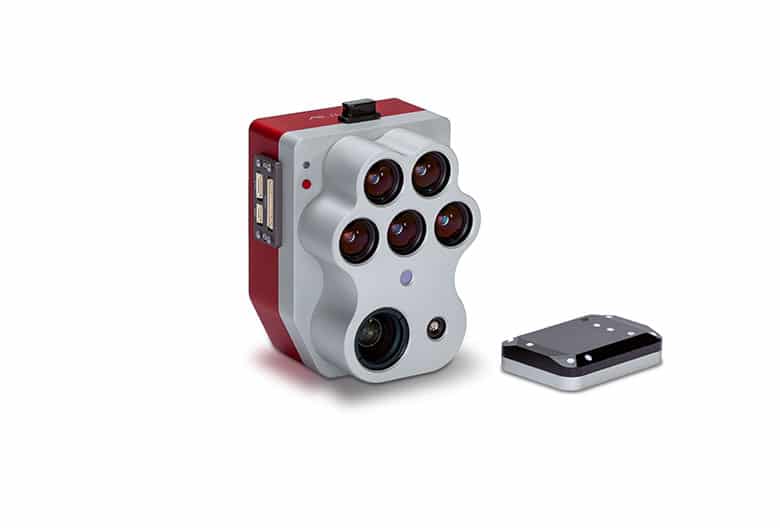 High-definition multispectral, thermographic, and RGB camera:
Doubled spatial resolution.
SYNCHRONIZED THERMAL AND MULTISPECTRAL IMAGING
MicaSense Altum-PT captures synchronised multispectral, thermal and panchromatic data for aligned results of very high spatial resolution. The capture of the bands happens simultaneously, eliminating the need for data alignment in post-processing.
Determining the timing, frequency and duration of irrigation is a critical factor in production agriculture as it directly affects crop health. Altum-PT's thermal imaging provides influential information in water management, helping irrigation managers to determine the correct irrigation and identify leaks or blockages in the irrigation system by the difference in crop foliage and soil temperature.
DETECTING DISEASES, PESTS AND NUTRITIONAL DEFICIENCIES
With Altum-PT's high-resolution multispectral imaging, users are more likely to identify problems affecting the physiology of plant foliage. Diseases, insects and nutrient problems often cause physiological damage before symptoms are visible in RGB. Using the different multispectral indices and composites of the pan-sharpening method data, these problems can be detected earlier.
ESTIMATION OF FRUIT YIELD
Common methods of estimating fruit yield, such as manual fruit counting or time series analysis, are time consuming and expensive. Altum-PT offers a combination of high-resolution RGB, multispectral and thermal imaging, enabling more accurate performance predictions with algorithm-based fruit counting and temperature analysis.
SPECIFICATIONS
Weight

460 g (16,2 oz.)

Altum-PT + DLS2

Dimensions

11,0 x 8,0 x 6,9 cm

(4,3 in x 3,1 in x 2,7 in)

External power supply

7,0 V – 25,2 V

Power input

5.5/7.0/10W (standby, average, peak)

Sensor Resolution

2064 x 1544 (3.2MP per MS band)

4112 x 3008 (12MP per PAN band)

320 × 256 thermal infrared

Spectral bands

Blue 475(32), Green 560(27), Red 668(14), Red Limit 717(12), NIR 842(57)

RGB output

12.4 MP (global shutter, aligned with all bands)

Thermal

FLIR LWIR thermal infrared 7.5-13.5um radiometrically calibrated

Multispectral GSD

5.28 cm per pixel at 120 m

Thermal GSD

33.5 cm per pixel at 120 m

Panchro and Pansharpened GSD

2.49 cm per pixel at 120 m

Capture rate

2 captures per second raw DNG*

Interfaces

3 GPIO config: select between trigger input, PPS input, PPS output and top of frame signals. Virtual host button. USB 2.0 port for wi-fi. Serial. Ethernet 10/100/1000. Express CF for storage

Field of view

50° HFOV x 38° VFOV (multispectral)

46° HFOV x 35° VFOV (panchromatic)

48° x 39° (thermal)

Storage

CFexpress card