G7 adopts a new design for the case, and with a high strength translucent control panel, it makes the operation process and instrument status display more intuitive.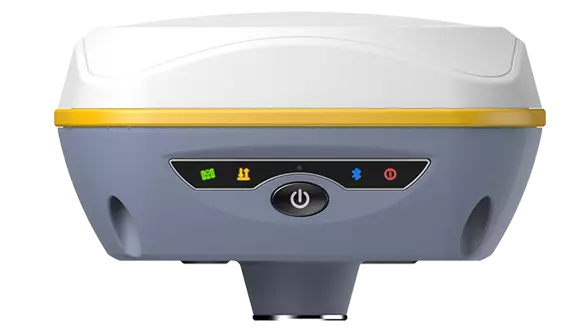 Satellite tracking status indication
Single button start design
Using multi-layer structure and high integration design, it makes the Galaxy G7 receiver very small.
Dimension:: 135mm(L)×135mm(W)×84.75mm(H)
Built with magnesium alloy materials, the weight is only 970g, including internal battery. Extremely light and convenient to carry.
Fully supports tracking of all signals
Galaxy G7 is equipped with an integrated high and low frequency antenna, using low profile design technology to reduce the physical difference between the high and low bands. The applied frequency selective radiation mechanism would improve the anti-interference capability of the antenna. Combined with the powerful GNSS RTK engine with 965 channels, this Galaxy G7 fully supports all satellite constellations in operation, especially BeiDou III global satellite signals.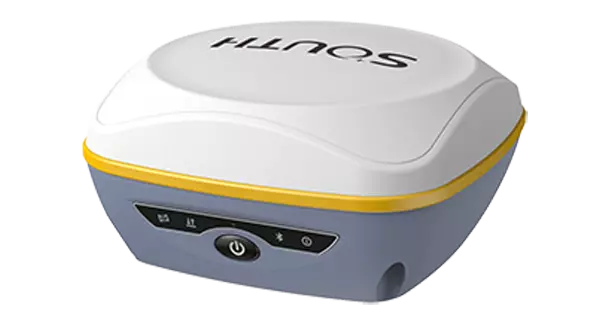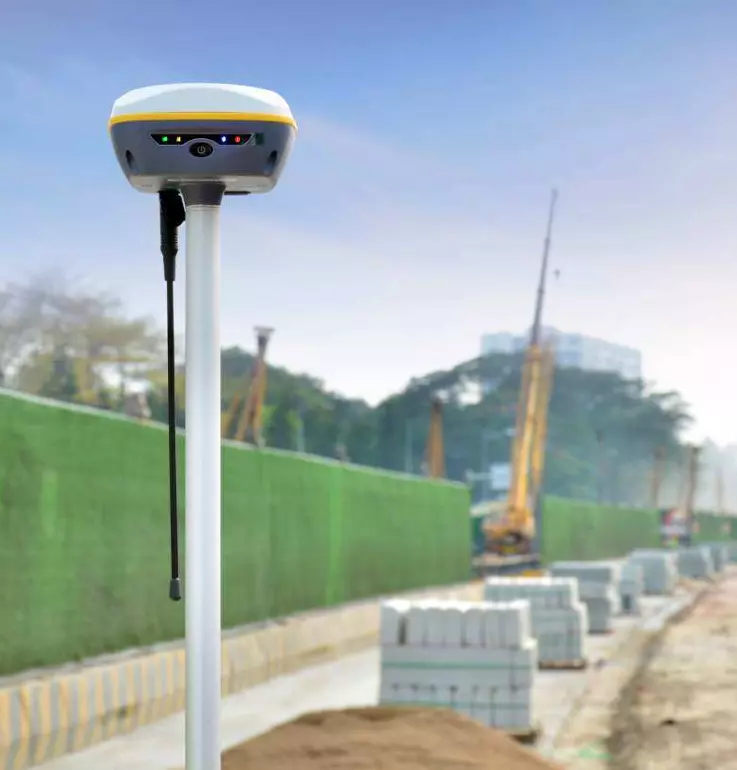 Excellent IMU tilt measurement
Galaxy G7 is integrated with a new generation IMU module that makes slope measurement more stable and accurate, coordinates would be corrected automatically according to slope direction and pole angle, which helps you to measure or survey points at will quickly and accurately without strictly leveling the receiver, helps surveyors increase productivity by 30%.
Barrier-free measurement
The new generation platform provides RTK with more stable performance and lower power consumption. The integrated high performance 6800mAh battery can support over 10 hours of continuous operation, without worrying about working all day.
Incredible UHF communication
Equipped with a new self-developed UHF module from SOUTH, the G7 truly achieves the goal of long-distance working using a new radio-Farlink communication protocol, which increases signal sensitivity and transmission efficiency.
Improves special signal recognition
Increased transmission bandwidth
Accommodates large volumes of data
Interference suppression
Low energy consumption
Typically 5km working range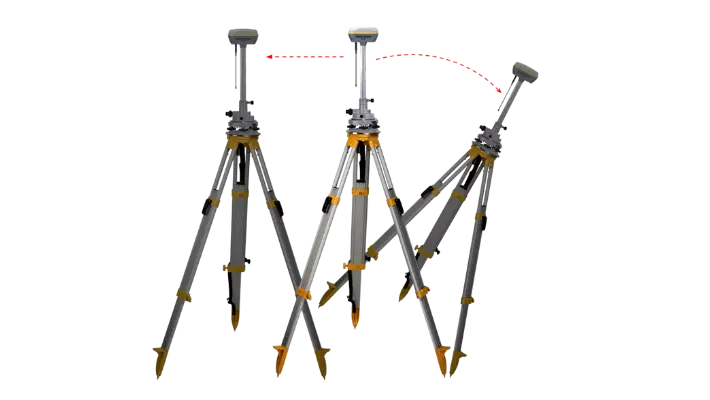 Multi-path for communication
Bluetooth module 4.0: Greatly improves connection speed and data transmission capacity.
NFC: Makes the Bluetooth connection faster by connecting the controller to the NFC tag.
WiFi: For access to the internal web interface, or connection to the Internet for correction of the data stream, while communicating with the controller.
7-pin USB: Data transmission and access to the web interface.
5-pin LEMO: External power supply and RS232 interface.
UHF antenna interface: Improves the UHF signal.
SPECIFICATIONS
GNSS Features

Channels

1598

GPS

L1, L1C, L2C, L2P, L5

GLONASS

L1C/A,L1P,L2C/A,L2P,L3

BDS

BDS-2: B1I, B2I, B3I





BDS-3: B1I, B3I, B1C, B2a, B2b*

GALILEOS

E1, E5A, E5B, E6C, AltBOC*

SBAS(WAAS/MSAS/EGNOS/GAGAN)

L1*

IRNSS

L5*

QZSS

L1, L2C, L5*

L Band MSS

BDS-PPP

Positioning output rate

1Hz~20Hz

Startup Time

< 10s

Startup Reliability

> 99,99%

Positioning Accuracy

GNSS differential code positioning

Horizontal: 0,25 m + 1 ppm RMS





Vertical: 0,50 m + 1 ppm RMS

Static (long observations)

Horizontal: 2,5 mm + 1 ppm RMS





Vertical: 3 mm + 0,4 ppm RMS

Static

Horizontal: 2,5 mm + 0,5 ppm RMS





Vertical: 3,5 mm + 0,5 ppm RMS

Fast static

Horizontal: 2,5 mm + 0,5 ppm RMS





Vertical: 5 mm + 0,5 ppm RMS

PPK

Horizontal: 3 mm + 1 ppm RMS





Vertical: 5 mm + 1 ppm RMS

RTK(UHF)

Horizontal: 8 mm + 1 ppm RMS





Vertical: 15 mm + 1 ppm RMS

RTK(NTRIP)

Horizontal: 8 mm + 0,5 ppm RMS





Vertical: 15 mm + 0,5 ppm RMS

RTK initialization time

2~8s

SBAS Positioning

Typically < 5m 3DRMS

L-BAND

Horizontal: 5-10cm (5-30min)





Vertical: 10-30cm (5-30min)

IMU

Tilt less than 10 mm + 0.7 mm/° for 30°

IMU tilt angle

0° ~ 60°

User Interaction

Operating System

Linux

Buttons

Single button

Indicators

4 LED indicators (satellite, Datalink, Bluetooth, Power)

Interaction on the web

With access to the internal web interface management via WiFi or USB connection, users can monitor the status of the receiver and change settings freely

Voice Guidance

Provides vocal guidance of status and operation and supports Chinese/English/Korean/Spanish/Portuguese/Russian/Turkish

Secondary Development

Provides secondary development package and opens the OpenSIC observation data format and interaction interface definition

Cloud Service

Powerful cloud platform provides online services such as remote management, firmware upgrade, online registration and etc.

Hardware Performance

Dimension

135mm(L) ×135mm(C) × 84,75mm(A)

Weight

970g (battery included)

Material

Aluminium and magnesium alloy shell

Operating Temperature

-25°C~+65°C

Storage Temperature

-40°C~+80°C

Humidity

100% non-condensing

Waterproof/dustproof

Standard IP67, protected against prolonged immersion up to 1 m deep





Standard IP67, fully protected against blowing dust

Shock and vibration

Withstands 2-meter pole drop onto a concrete floor naturally





MIL-STD 810G

Power Source

6-28V DC, overvoltage protection

Battery

Built-in rechargeable 7.2V 6800 mAh Li-ion battery

Battery life

3 PM (Bluetooth Rover Mode)

Communications

E/S Port

External 5-pin LEMO power port + RS232 interface





type C (charging, OTG, data transfer to PC or phone, Ethernet)





1 UHF antenna interface

Internal UHF

2W radio, receive and transmit, radio router and radio repeater

Frequency Range

410-470MHz

Communication Protocol

Farlink, Trimtalk450s, SOUTH, HUACE, Hi-target, Satel

Communication Range

Usually 8km with Farlink protocol

Bluetooth

Bluetooth 3.0/4.1 standard, Bluetooth 2.1 + EDR

NFC Communication

Automatic close-range pairing (less than 10 cm) between the receiver and the controller (controller requires another NFC wireless communication module)

WI-FI

Modem

standard 802.11 b/g

Wi-fi access point

The receiver transmits your access point from the web user interface accessing with any mobile terminal

wi-fi data connection

Receiver can transmit and receive correction data stream via WiFi data link

Data storage/transmission

Store

Standard 4GB SSD internal storage, extendable up to 64GB





Automatic cycle storage (the first data files will be automatically removed as long as the memory is not sufficient)





Supports external USB storage





Customisable sample range is up to 20 Hz

Data Transmission

USB data transmission plug and play mode





Supports FTP/HTTP data download

Data Format

Static data formats: STH, Rinex2.01, Rinex3.02, etc.





Differential data format: RTCM 2.1, RTCM 2.3, RTCM 3.0, RTCM 3.1, RTCM 3.2





GPS output data format: NMEA 0183, PJK plane coordinate, binary code





Network model support: VRS, FKP, MAC, full NTRIP protocol support

Sensors

electronic bubble

The controller software can display the electronic bubble, checking the carbon pole levelling status in real time

IMU

Integrated IMU module, calibration-free and immune to magnetic interference

Thermometer

Built-in thermometer sensor, adopting intelligent temperature control technology, monitoring and adjusting the temperature of the receiver