Behind every significant change in human society there is always the birth of an important technology. At the dawn of a new era, South is leading an era of high-precision positioning.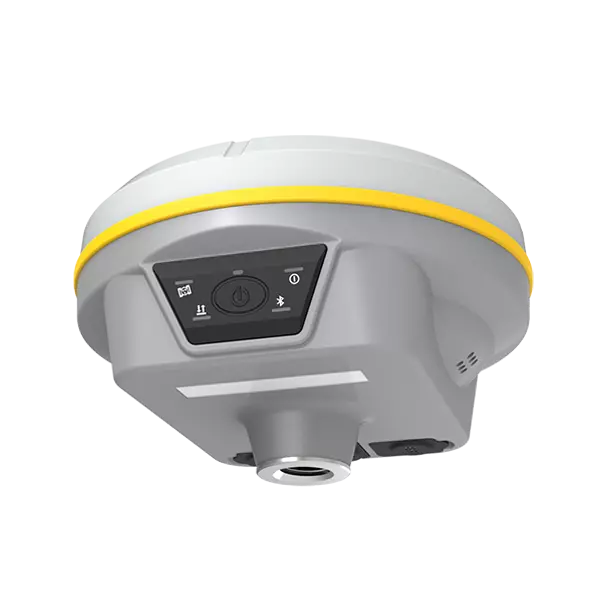 Super radio and Farlink protocol
Using multi-layer structure and high integration design, the Galaxy G3 receiver is very small, with dimensions 130mm X 80mm. Built with magnesium alloy materials, the weight is only 790g including internal battery, very light and convenient to carry.
Excellent performance
The excellent performance of the Galaxy G3 allows you to understand high-tech in the surveying and mapping industry.
Independent indicators with different colors make the receiver's working status and information clearer and more intuitive, and the function module can be clearly known even in bright light.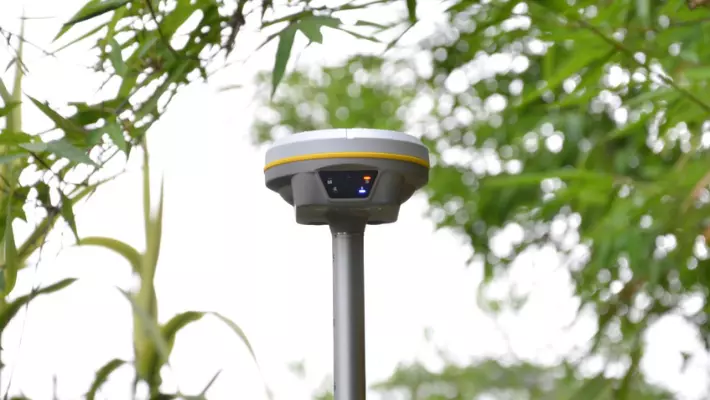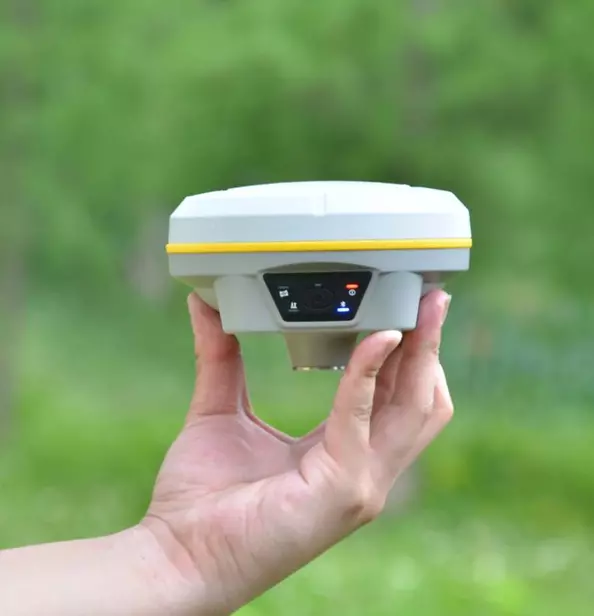 G3's GNSS card is integrated with an advanced SoC, a chip that features high integration and low power consumption, effectively suppresses interfering signals, and obtains higher quality observation data from satellite constellations
The GNSS board fits perfectly on the power board and is not removable.
High management and control capacity
The G3 is integrated with the ROS system, which comes with the intelligent implementation of multi-mode hardware components, strong computing power and intelligent scheduling mechanism, together with the ultra-thin memory management mechanism, make the receiver's fluency and operating speed understandably improved.
It adopts the new "RTK engine algorithm" that optimizes data robustness, avoids the false point during survey, and ensures the reliability and stability of the coordinate result in complex environments.
Based on the signal tracking capability of the L-band, the Galaxy G3 can capture the precise orbit information and precise satellite clock error carried by the BeiDou-3 GEO satellite's B2b signal, which can provide users with single-point positioning services at the centimeter level in real time through an accurate algorithm. The positioning is no longer restricted by the terrestrial environment, such as mountain, desert and island. The fixed solution is generally available as long as the GNSS constellations are visible.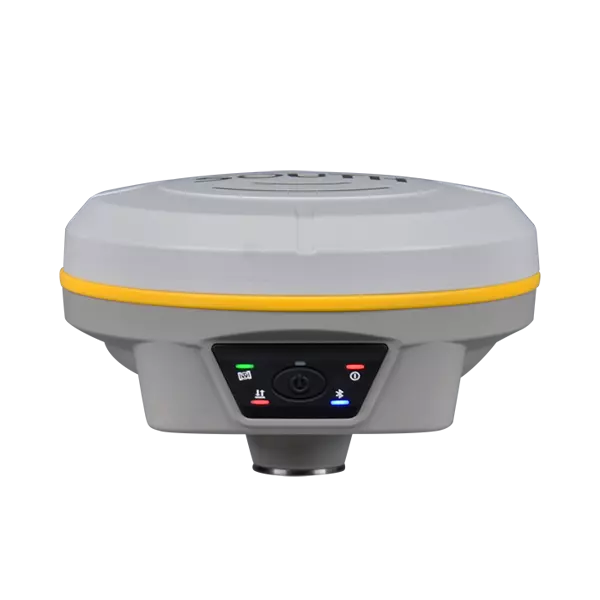 Excellent performance and reliable algorithm technology help surveyors increase productivity.
Equipped with a super UHF module developed by SOUTH – "Beaver", comes with 2W transmission power, the Galaxy G3 really achieves the goal of long distance work using a new radio-Farlink communication protocol, which increases signal sensitivity and transmission efficiency.
The frequency of each channel under the "Farlink" protocol is different from the commonly used ones, which effectively prevent interference from other radio signals.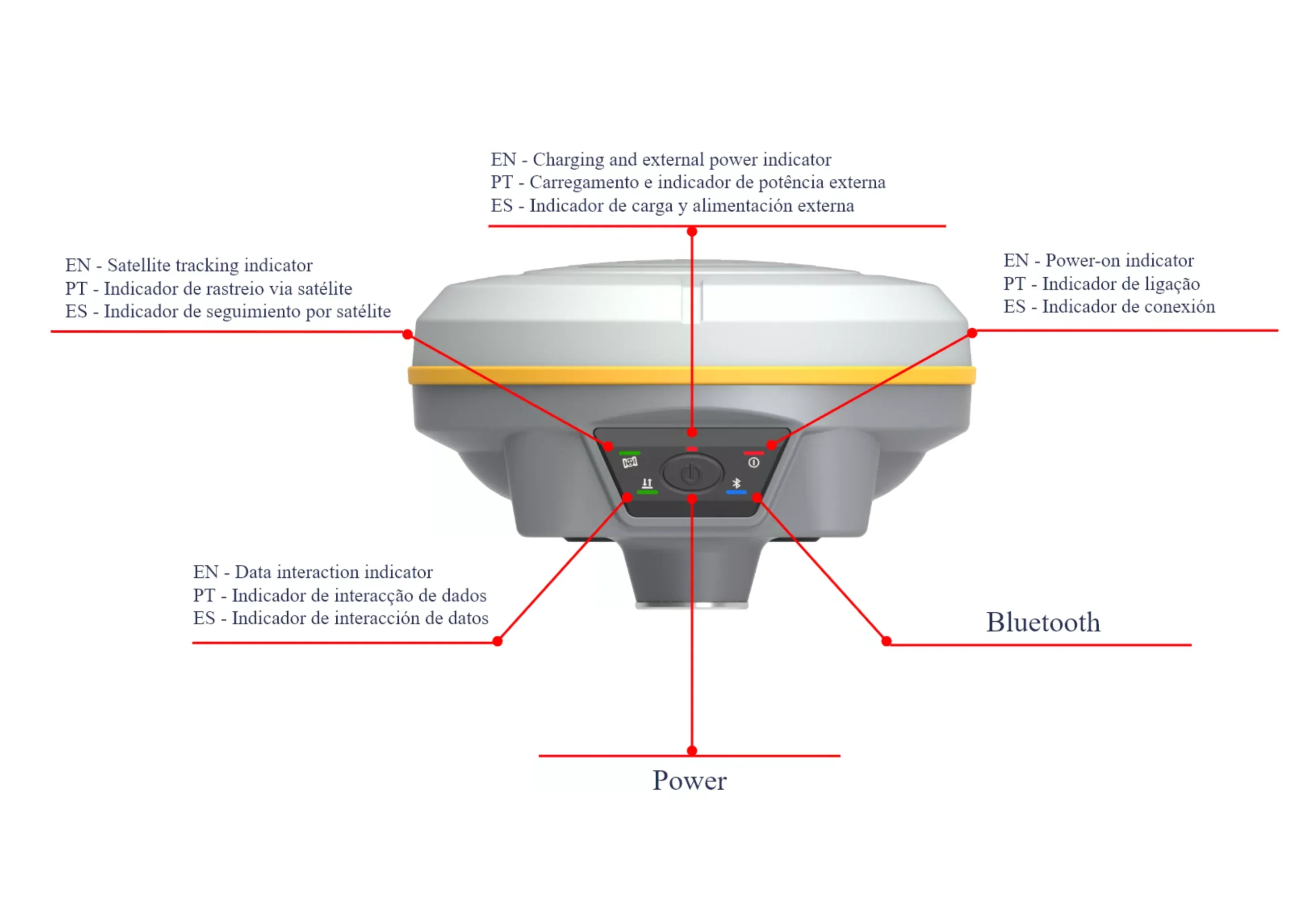 SPECIFICATIONS
GNSS Features

Channels

1598

GPS

L1, L1C, L2C, L2P, L5

GLONASS

L1C/A,L1P,L2C/A,L2P,L3*

BDS

BDS-2: B1I, B2I, B3I





BDS-3: B1I, B3I, B1C, B2a, B2b*

GALILEOS

E1, E5A, E5B, E6C, AltBOC*

SBAS(WAAS/MSAS/EGNOS/GAGAN)

L1*

IRNSS

L5*

QZSS

L1, L2C, L5*

L Band MSS

BDS-PPP

Positioning output rate

1Hz~20Hz

Startup Time

< 10s

Startup Reliability

> 99,99%

Positioning Accuracy

GNSS differential positioning code

Horizontal: 0,25 m + 1 ppm RMS





Vertical: 0,50 m + 1 ppm RMS

Static (long observations)

Horizontal: 2,5 mm + 1 ppm RMS





Vertical: 3 mm + 0,4 ppm RMS

Static

Horizontal: 2,5 mm + 0,5 ppm RMS





Vertical: 3,5 mm + 0,5 ppm RMS

fast static

Horizontal: 2,5 mm + 0,5 ppm RMS





Vertical: 5 mm + 0,5 ppm RMS

PPK

Horizontal: 3 mm + 1 ppm RMS





Vertical: 5 mm + 1 ppm RMS

RTK(UHF)

Horizontal: 8 mm + 1 ppm RMS





Vertical: 15 mm + 1 ppm RMS

RTK(NTRIP)

Horizontal: 8 mm + 0,5 ppm RMS





Vertical: 15 mm + 0,5 ppm RMS

RTK initialization time

2~8s

SBAS Positioning

Typically < 5m 3DRMS

L-BAND

Horizontal: 5-10cm (5-30min)





Vertical: 10-30cm (5-30min)

IMU

Tilt less than 10 mm + 0.7 mm/° for 30°

IMU tilt angle

0° ~ 60°

Hardware Performance

Dimension

130mm(W) ×130mm(L) × 80mm(H)

Weight

790g (battery included)

Material

Aluminum magnesium alloy shell

Operating Temperature

-45℃ ~ +75℃

Storage Temperature

-55℃ ~ +85℃

Humidity

100% non-condensing

Waterproof/dustproof

IP68 standard, protected from prolonged immersion to a depth of 1m IP68 standard, fully protected against blowing dust

Shock/Vibration

Withstands 2-meter pole drop onto a concrete floor naturally





MIL-STD 810G

Power Source

6-28V DC, overvoltage protection

Battery

Built-in rechargeable 7.2V 6800 mAh Li-ion battery

Battery life

3 PM (Bluetooth Rover Mode)

Communications

I/O Port

External 5-pin LEMO power port + RS232 type C (charging, OTG to USB disk, data transfer with PC or phone, Ethernet)





1 UHF antenna TNC interface

Internal UHF

2W radio, receive and transmit, radio router and radio repeater

Frequency Range

410 – 470MHz

Communication Protocol

Farlink, Trimtalk450s, SOUTH, HUACE, Hi-target, Satel

Communication Range

Usually 8km with Farlink protocol

NFC Communication

Automatic close-range pairing (less than 10 cm) between the receiver and the controller (controller requires another NFC wireless communication module)

Bluetooth

Bluetooth 3.0/4.1 standard, Bluetooth 2.1 + EDR

WI-FI

Modem

standard 802.11 b/g

Wi-fi access point

AP mode, the receiver broadcasts its access point from the web user interface accessing with any mobile terminal

wi-fi data connection

Client mode, the receiver can transmit and receive correction data streams via WiFi data link

Data storage/transmission

Store

4 GB SSD Automatic cycling storage (the first data files will be automatically removed as long as the memory is not sufficient)





Supports external USB storage

Data Transmission

USB data transmission plug and play mode





Supports FTP/HTTP data download

Data Format

Static data formats: STH, Rinex2.01, Rinex3.02, etc.





Differential format: RTCM 2.3, RTCM 3.0, RTCM 3.1, RTCM 3.2





GPS output data format: NMEA 0183, coordinate plane PJK, SOUTH Binary code





Network model support: VRS , FKP, MAC, fully supports NTRIP protocol

Sensors

Electronic Bubble

The controller software can display electronic bubble, checking the carbon pole leveling status in real time

IMU

Integrated IMU module, calibration-free and immune to magnetic interference

Thermometer

Built-in thermometer sensor, adopting intelligent temperature control technology, monitoring and adjusting the temperature of the receiver

User Interaction

Operating System

Linux

Buttons

One Button

Indicators

5 LED indicators (Satellite, Charging, Power, Datalink, Bluetooth)

web interaction

With access to the internal web interface management via Wi-Fi or USB connection, users can monitor the status of the receiver and change settings freely

Voice Guidance

Provides voice guidance of status and operation. Supports: Chinese/English/Korean/Spanish/Portuguese/Russian/Turkish

Secondary Development

Provides secondary development kit and opens OpenSIC observation data format and interaction interface definition

Cloud Service

The powerful cloud platform provides online services such as remote management, firmware update, online registration, etc.