Two sensors. 10 bands.
For a better comparison of the data with the satellites. High-resolution RGB and multispectral composite drone sensor for plant classification, weed identification, environmental research and conservation, and vegetation analysis of water bodies. The dual solution includes the RedEdge-P and the new RedEdge-P blue cameras.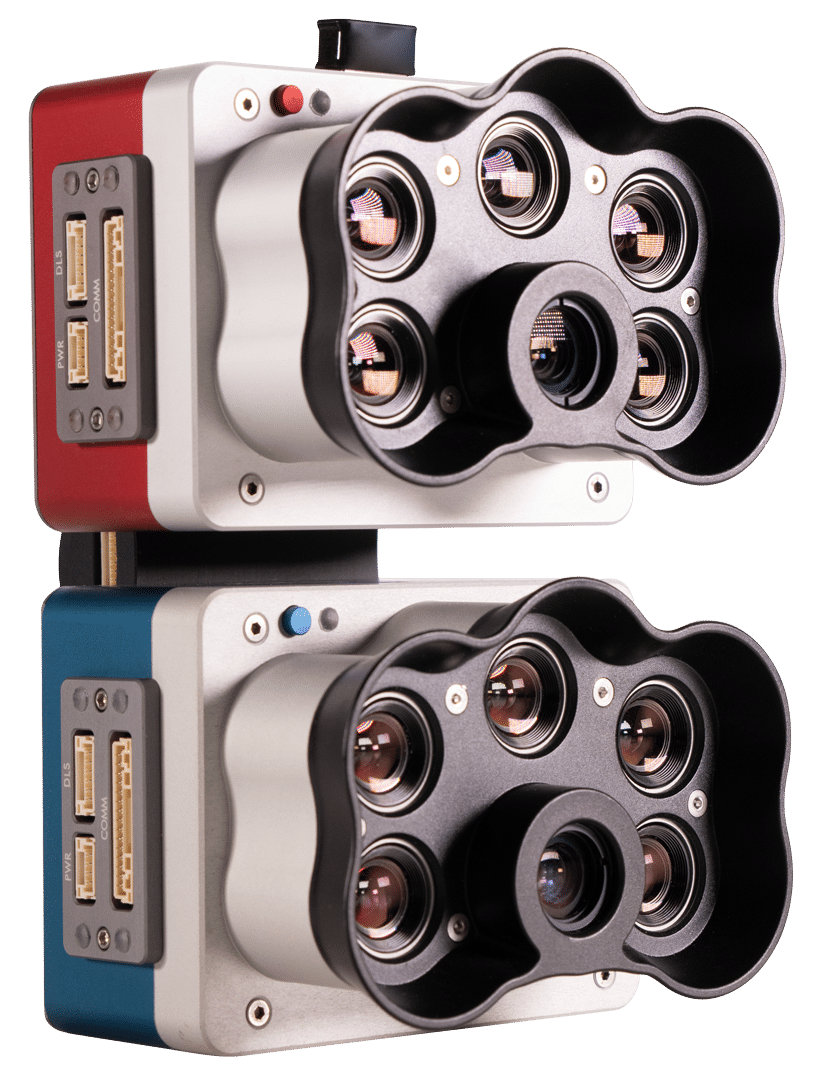 10 multispectral bands of 1.6 MP each.
Pan-sharpening technology.
Dual radiometric calibration with light sensor and calibration reflectance panel for reliable data in varying light conditions.
Global shutter on all 10 lenses for blur-free image capture.
Fast capture speed: 3 raw DNG images per second.
Synchronized capture of all 10 bands, automatic triggering and geotagging of images for efficient flight times and easy post-processing.
Features
The dual-band RedEdge-P covers the Landsat 8 and Sentinel-2 satellite bands with improved spatial resolution.
Panchromatic band for higher resolution
Dual RedEdge-P provides a GSD of 2 cm per pixel / 0.8 inches per pixel when flying at 60 m / 200 ft. Sharper images make it possible to detect small problems earlier and make reliable decisions.
The unique RedEdge-P dual coastal blue band is specially designed for aquatic vegetation analysis and weed identification in shallow water environments.
Narrow spectral bands are key to detecting subtle variations in plant condition and allow for more accurate data. The dual RedEdge-P is a narrow band sensor that captures the most relevant segments of the spectral curve.
Obtain images comparable to Landsat and Sentinel satellite data with improved resolution.
Monitor shallow water environments with the coastal blue band.
Conduct detailed analyses on chlorophyll efficiency and identify weeds.
Perform reliable time series analysis even under varying light conditions.
Perform machine learning and AI applications, such as early stage crop counting.
Generate knowledge invisible to the naked eye with various results and indices, such as RGB, NDVI, NDRE, OSAVI, NIT, CIR, DSM.
Work with the equipment you already have: compatible with DJI Matrice 300 and a wide range of post-processing and flight planning software.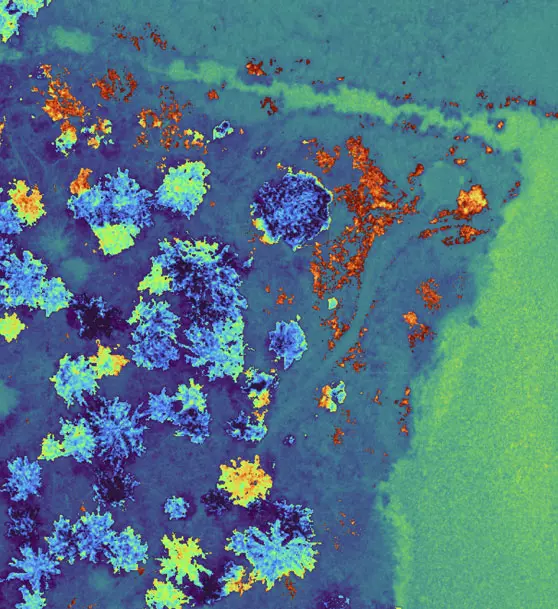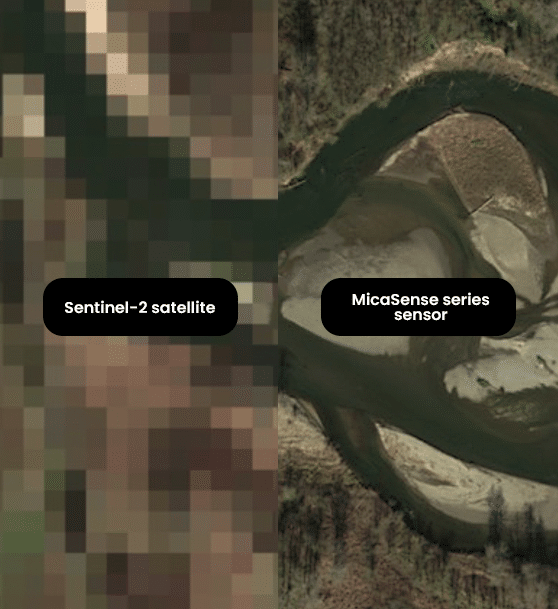 Correlate drone and satellite data
RedEdge-P's dual bands cover the Landsat 8 and Sentinel-2 satellite bands (~10 m / 32 ft per pixel) with an improved spatial resolution of 2 cm / 0.8 in. Many indices already created by satellites can be used.
Performance of time series analysis
The RedEdge-P dual multispectral kit includes a calibrated reflectance panel (CRP) and a downward light sensor (DLS). These radiometric calibration tools take into account different weather and light conditions, providing data that allow reliable time series analysis and comparison of results over time.
AI applications
These radiometric calibration tools take into account different weather and light conditions, providing data that allow reliable time series analysis and comparison of results over time.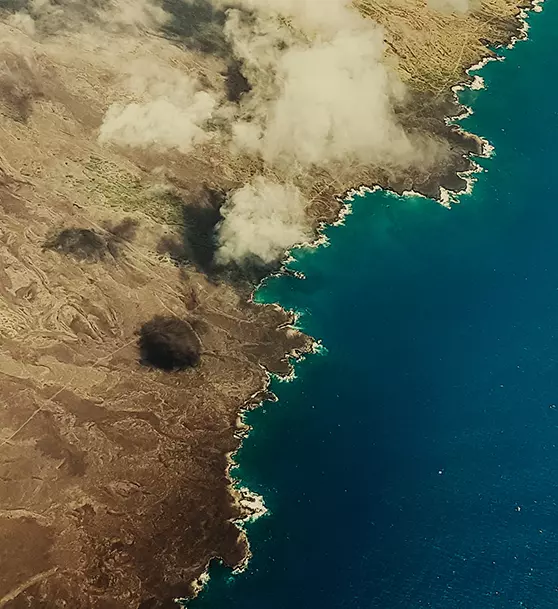 Analysis of the vegetation of water bodies
Water studies to examine chlorophyll efficiency, vegetation analysis and identification of floating, submerged and emergent algae or plants.
Environmental monitoring
Coastal and nearshore mapping for water resource management, tidal zones, wetlands and glacier monitoring.
Water management
Control of public water supply and management of water resources.
Monitoring, protection and restoration of habitats
Erosion and biodiversity survey, study of reefs in shallow waters, inaccessible to ships and sensitive to human interaction.
Identification of plant species and weeds
Vegetation health management and species identification, including the ability to differentiate and count plants, trees, invasive species and weeds.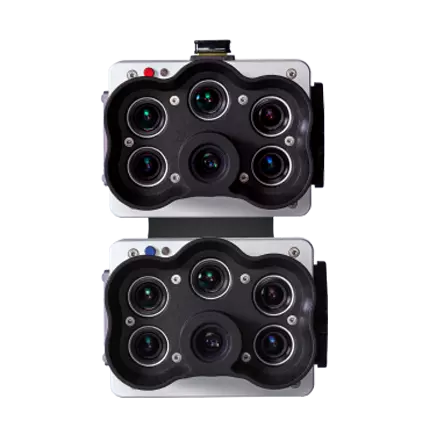 KIT MULTIESPECTRAL
RedEdge-P
RedEdge-P blue
DLS light sensor
CRP calibrated reflectance panel
USB Wi-Fi cable
Objective cap
Integration cables
Mounting material
CFexpress card
CFexpress card reader
Rigid storage for transport
Initiation Guide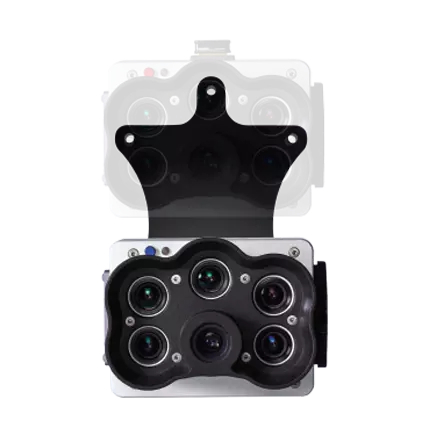 KIT UPGRADE MULTIESPECTRAL*
*Option for customers who already have a RedEdge-P.
RedEdge-P blue
USB Wi-Fi cable
Objective cap
Integration cables
Mounting material
CFexpress card
CFexpress card reader
Rigid carrying case
Initiation Guide
SPECIFICATIONS
Weight

745 g / 26,2 oz (two sensors, mounting accessories, DLS and cable)

Dimensions

13,2 cm x 8,8 cm x 9,67 cm / 5,1 pol x 3,1 pol x 3,5 pol

Fuente de alimentación externa

7.0 V – 25.2 V

Power input

11/14,0/20 W (standby, medium, peak)

Sensor Resolution
1456 x 1088 (1,6 MP per multispectral band)
2464 x 2056 (5.1 MP panchromatic band)
Spectral bands

Blue 475(32), Green 560(27), Red 668(14), Red Limit 717(12), NIR 842(57)

RGB output

15.1* MP (global shutter, aligned with all tracks) *with proper post-processing

Capture rate
Up to 3 captures per second raw DNG – capture speeds vary depending on the recording speed of the USB storage device

Multispectral GSD

7,7 cm/3 pulg. per pixel at 120 m/~400 ft AGL
Panchro e Pansharpened GSD
3,98 cm/1,5 pulg. per pixel at 120 m/~400 ft AGL
Panchro e Pansharpened GSD

2,49 cm por píxel a 120 m

Interfaces

Three configurable GPIOs: select between trigger input, PPS input, PPS output and end-of-frame signals. Virtual host button.

USB 2.0 port for WiFi. Series. Ethernet 10/100/1000.

Field of view

50° HFOV x 38° VFOV (multiespectral)

44° HFOV x 38° VFOV (panchromatic)

Storage

CFexpress card