Micasense Dual Camera System
Double the resolution, less work. You can double the spectral resolution in a much more practical and effective way.
With the new RedEdge-MX Blue, this solution captures the RedEdge-MX bands, as well as new filters that allow a more detailed analysis of chlorophyll efficiency. It is a synchronised 10-band solution for remote sensing and agricultural surveillance.
Like satellite imagery data, the dual system allows a wider view of the entire light spectrum. By using all 10 bands, this solution allows a much greater ability to differentiate objects and changes.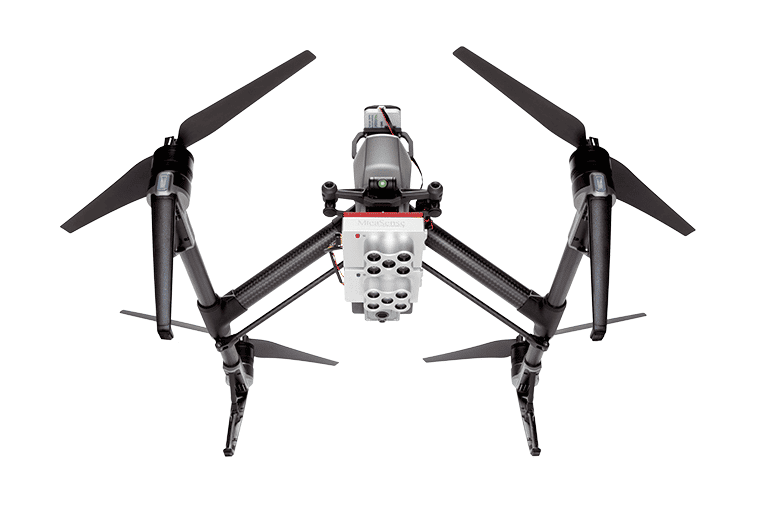 Synchronised capture of all 10 bands for pixel aligned images.
Standard 12-bit TIFF file results, with embedded metadata for full access to raw data.
Combined backlight sensor (DLS) and GPS for simplified integration and accurate ambient light calibration. Only the DLS is required.
Radiometrically calibrated spectral images for accurate and repeatable measurements.
Global shutters on all 10 lenses for distortion-free results on all platforms.
Comes standard with fixed bracket and quick mount connector for easy integration with DJI drones.
SPECIFICATIONS
Weight

508.8 g

(Dual Sensors, Dual Camera Mount, DLS2 and cable)

Dimensions

8,7 cm x 12,3 cm x 7,6 cm (3,4 pol. x 4,8 pol. x 3,0 pol.)

External power supply

4,2 VCC – 15,8 VCC

Power input

8.0/16.0W (nominal, peak)

Supplied via a dual camera mount

Spectral ranges

Coastal Blue 444(28)*, Blue 475(32), Green 531(14)*, Green 560(27), Red 650(16)*, Red 668(14), Red Border 705(10)*, Red Border 717(12), Red Border 740(18)*, NIR 842(57)

RGB color output

3.6 MP (global shutter, aligned with all bands)

Sensor Resolution

1280 x 960 (1.2 MP per EO band)

Ground Sample Distance (GSD):

8 cm per pixel (per band) at 120 m (~400 ft) AGL

Capture rate

1 capture per second (all bands), 12 bit RAW

Interfaces

Serial, Ethernet 10/100/1000, removable Wi-Fi, external drive, GPS, SDHC

Field of view

47.2° HFOV

Heat

0-40°C ambient (no airflow); 0-50°C

Environment with airflow > 0,5m/s

Driving options

Timer mode, Override mode, External trigger mode (PWM, GPIO, Serial and Ethernet options), Manual capture mode