PIX4D
A unique photogrammetry software package for mobile and drone mapping
Produce survey results such as maps and 3D models from drone imagery.
Increase productivity- Increase the efficiency of your surveys through drone mapping and save operational costs by reducing time on the ground.
Accurate results – Ensure accuracy with our quality reports, convenient and detailed editing tools, ground control points, control points and RTK drone support.
Always up-to-date maps and terrain models – thanks to a simple workflow and easy repeatable data capture, maps and models can be updated as often as required.
Simplified inspections – capture images and data easily with your mobile device and the PIX4Dcatch rover or viDoc RTK, a drone or automatically with our CraneCamera solution. Create accurate 2D maps and 3D models, instantly upload them to the cloud and view them anywhere in the world.
Save time and costs – get results faster than ever before. Pix4D solutions for construction cost nothing compared to traditional measurement methods, with the same high accuracy you can rely on.
Greater control of performance – your data is available faster and can be shared immediately with project stakeholders anywhere in the world for improved communication and collaboration.
Agricultural management – Analyse crops with vegetation indices. Create and implement prescription treatment plans. Optimise yields with precision farming.
Research and development – Planning and plotting test plots. Obtaining accurate results from crop information. Remote sensing and image analysis for better results
Security – Obtain comprehensive analysis in the field. Identify and quantify damaged or affected crops. Create and share reports on claims or findings.
Integrated agricultural platforms – Integrate Pix4D algorithms with your own platform. Provide high quality agricultural analysis services Automate and integrate your own businesses.
Faster data collection – work faster in the field by reducing data collection time with automated flight plans.
Automated asset inventory – get an automatic record of tower assets thanks to AI-powered algorithms that start the work for you.
Reduce inspection time – reduce time spent inspecting assets with integrated tools that streamline your workflow.
Accidental Drone Reconstruction – Unmatched accuracy when recreating scenes in 3D. Work with imperfect imagery and adapt to the data collected. Create true models for reliable investigations.
Terrestrial scene reconstruction – Portable RTK rover connected to mobile devices. Rapid data collection with mobile scanning. Real-time 3D results to verify scene completion.
Emergency response – Rapid 2D mapping for firefighting, disaster response or search and rescue. Rapid deployment and shareable GeoTIFF results. Free sharing via cloud service.
Reduce operational risk – anticipate geotechnical risks such as rock bursting, water ingress and slope stability.
Supply chain management – streamline the supply chain with accurate and automatic stock volume calculation.
Asset lifecycle management – get an overview of your assets at every stage of their lifecycle.
The power of photogrammetry – create a digital twin of your assets. Review and share with your stakeholders, make accurate, geo-referenced measurements and annotations anytime, anywhere.
Simplify visual inspections – Pix4D's intelligent inspection tools speed up your work and reduce the number of images you need to inspect, automatically extracting critical information.
Automatic reporting – get all the information about your inspections thanks to automatically generated reports containing all your notes. Save time and money on report writing.
Pix4Dmapper is the leading software for aerial photogrammetry. It converts your images into georeferenced 2D maps and highly accurate 3D models.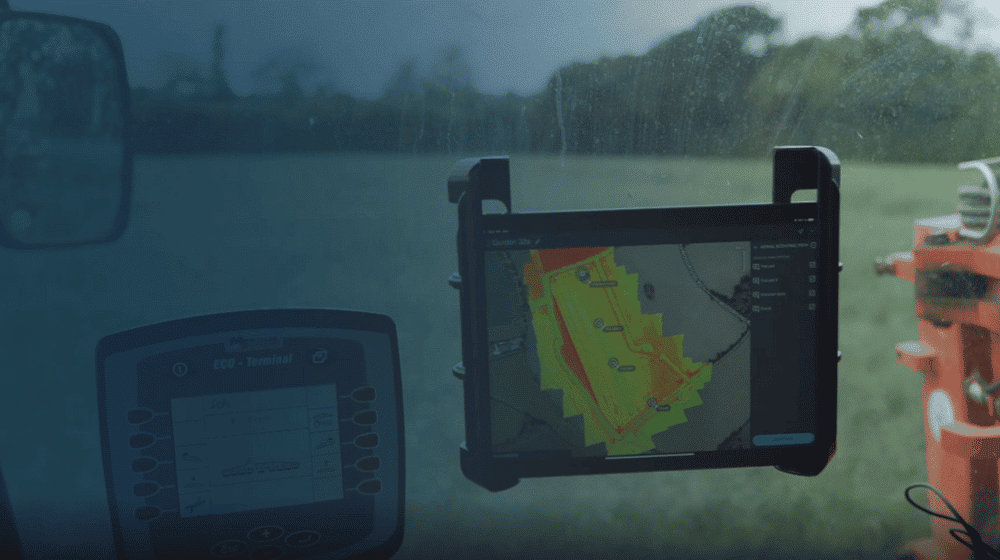 MAIN RESULTS
3D point cloud
Digital surface models
Orthomosaic
Volume calculation
Measurement
Contour levels
3D model with texture
Vegetative indices
SCAN EVERYTHING AROUND YOU
This software allows you to automate drone flight and data transfer and provides results with centimetre-level accuracies. If your project is relatively simple, standard models allow easy and automated processing of photogrammetric point clouds. It is easy to measure area, distance, volume and elevation.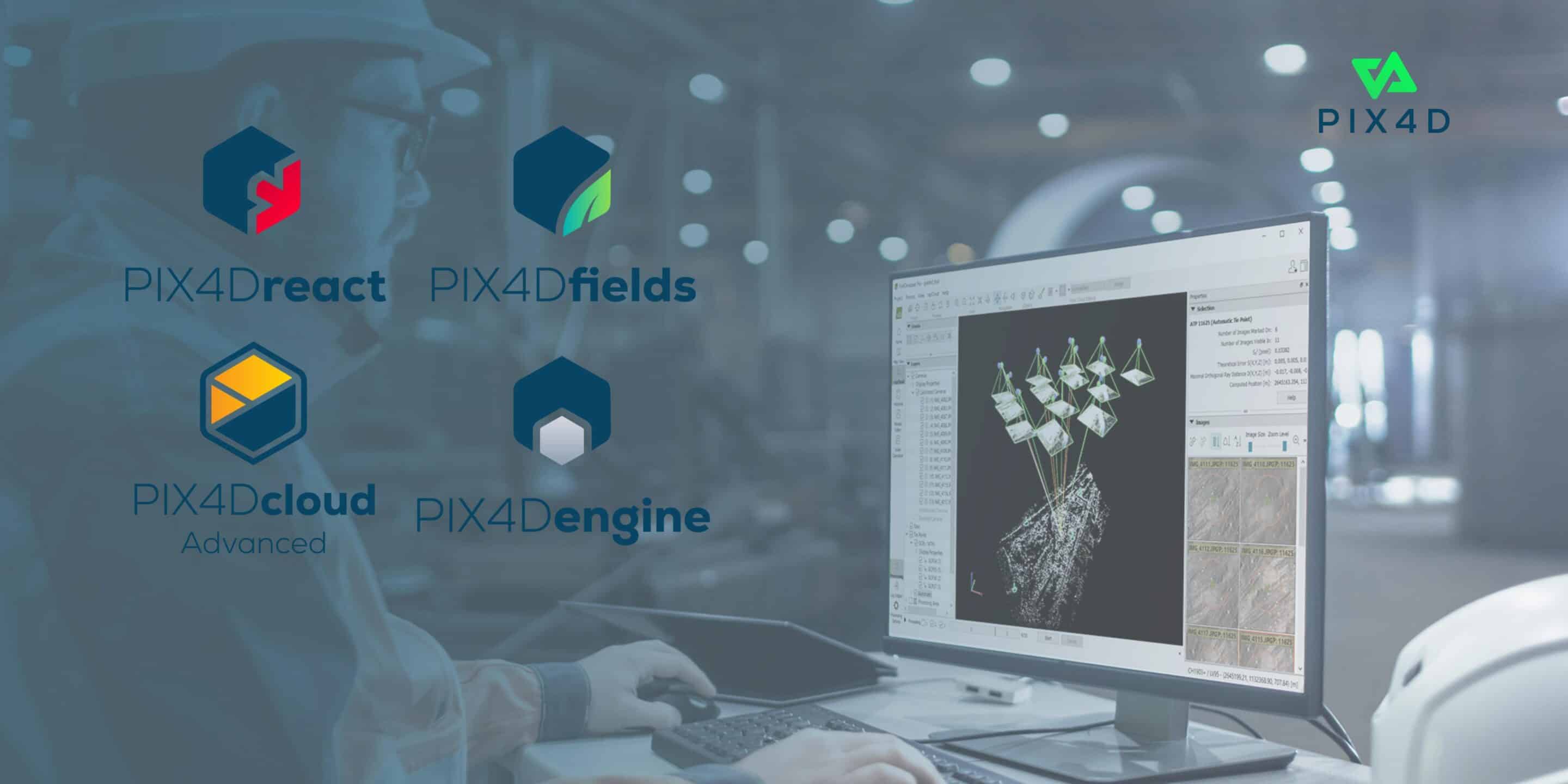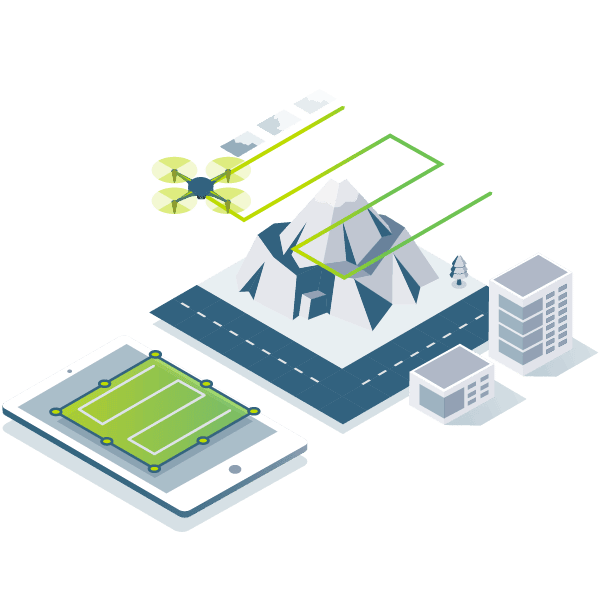 Capture RGB, thermal or multispectral images with any camera or drone and import them into PIX4Dmapper.
PIX4Dmapper's photogrammetry algorithms transform terrestrial or aerial imagery into digital maps and 3D models. Process projects on the desktop using the photogrammetry software.
Use the power of photogrammetry in the rayCloud environment to assess, control and improve project quality. Use the quality report to review generated results, calibration details and many other project quality indicators.
MEASUREMENT AND INSPECTION
Accurately measure distances, areas and volumes.